Chasin' Tails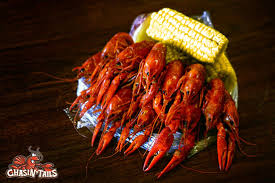 This past Sunday, my fellow foodie and I visited Chasin' Tails in Arlington, VA. Chasin' Tails is considered a Cajun/Creole seafood restaurant similar to Hot 'n Juicy. If you're not familiar with either restaurant, it's a hand on dining experience. If you don't mind getting a little down and dirty, I'd highly recommend both restaurants. You can't go wrong with crawfish and beer.
The real reason I decided to try this place out was due to my quest for beignets. I've been on the hunt for beignets for a while now; so with the help of my favorite app Yelp! I was lead to Chasin' Tails. The reviews were strong and the pictures were tantalizing. All it took was one text message to my sidekick and we were headed down I-295. We arrived with empty stomachs and high expectations. We weren't disappointed.
The service was excellent as well as the food. We ordered 2lbs of crawfish to share accompanied by deliciously seasoned corn. The corn was the best corn I had had in a very long time. Kendra ordered gator bites, fries and an Arnold Palmer (Half and Half). I ordered sweet potato fries and a 16oz Blue Moon.
I must say, our eyes were bigger than both of our stomachs but it was all worth it. The half and half was made with freshly squeezed lemons and the right mix of sweet tea. My beer was just like I like it, cold with just the right amount of froth. We devoured everything we could and still had some to take home.
The crawfish were delicious, but compared to Hot 'n Juicy, they were just ok. Maybe it has something to do with the marinating process or the steaming process but the seasoning was barely there. But with all the food we ordered, I still had to try the beignets. The beignets didn't disappoint. I've never tried an authentic beignet from New Orleans but at least now I have something to compare it to.
Kendra chose the fried plantain a la mode to top off her experience. Plantain doesn't usually come to mind when I think of Cajun cuisine but I was pleasantly surprised. The plantain was covered in a nutella crusted shell covered in cinnamon and sugar. It was so good, I may go back just for the dessert.
All in all, I had a wonderful experience and I'd recommend this restaurant to anyone looking for seafood and a good time. To see more of my pictures and other reviews, check out my Yelp! profile Be. C or Chasin' Tails on Yelp!
Until next time... Be Great!