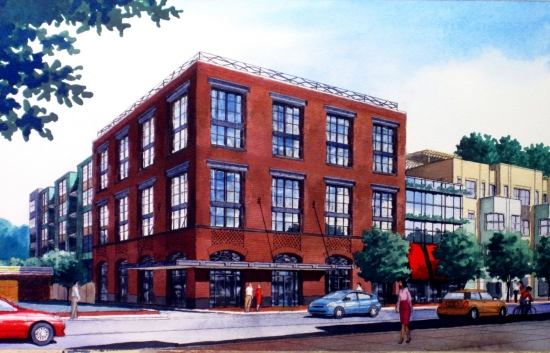 DC is known for its politics, sports, restaurants, and museums. Destination DC estimates 15 million tourist visit the city annually. However, for residence, mentioning a certain street name or neighborhood can elicit an experience, a culture or a particular establishment. For example, The U Street Corridor can elicit Ben's Next Door, the African American War Memorial, 9:30 Club, Lincoln Theatre, and many other established restaurants and night life destinations this vibrant neighborhood has to offer.
The same goes for The H Street Corridor which is often compared to U Street because of the cities initiative to bring the corridor back to life. When people think of H Street, they think of Horace and Dickie's, Sidamo's coffee shop, the street cars, The Atlas Performing Arts Center, and their favorite places to eat or drink. Even though H Street hasn't finished undergoing its transformation another neighborhood in DC will soon emerge.
Takoma Central will soon ring in the ears of the District's residence and Maryland residents alike, as the new hot spot. Busboys and Poets have anchored a lease to occupy 6,500 square feet of the new mixed-use development. Takoma is a very eclectic neighborhood with its city within a city feel. It's known to have a diverse community as it straddles the boundary of DC and Maryland. However, Busboys and Poets have a unique culture and community vibe that will compliment the surrounding area very well. As if it were a natural fixture to the area. So when people refer to Takoma Central in the future, Busboys and Poets will resonate in their mind as Ben's Chili Bowl resonates with U Street.
The total development project will cost $36 million and will be at the intersection of Carroll Street and Maple Street. Takoma Central will also feature 150 rental apartments along with chain store like CVS and Ace Hardware. Like the Rhode Island Ave mixed-use development, Takoma Central will be within walking distance of Takoma Station in NW Washington. DC is developing a lot of walk-able communities which is a benefit seeing as though traffic cameras are being erected everywhere and metro fare is steadily increasing.
My hat goes off to Federal Capital Partners and Level 2 Development for investing in the area. I can't wait for the ribbon cutting.